Riding Habit Revised a column where equestrian fashion and decor is reviewed with a modern edge.  
Last night I had the pleasure of seeing Andrew Bird preform live, and I was reminded of his many amazing his gig posters! About a year ago, I shared Ten Gig Posters For Riders Who Rock, which included that gem from Andrew Bird to the left. Now, in honor of his performance, I'm sharing ten more!
In these next ten you'll find many of 100% Sound's featured artists, and equines and equestrian accessories of all types. From horses shoes, to zebras and donkeys, there is plenty of four-legged fun from these bands!
As always, you can click on the image if you would like to learn more about the poster, and perhaps even purchase one for yourself. You can also head over to the Counter-Canter Culture Pinterest page for more suggestions or seek out works for your own favorite bands at www.gigposters.com.
1. Mandolin Orange
2. Dawes
3. Edward Sharpe & The Magnetic Zeros and Family of the Year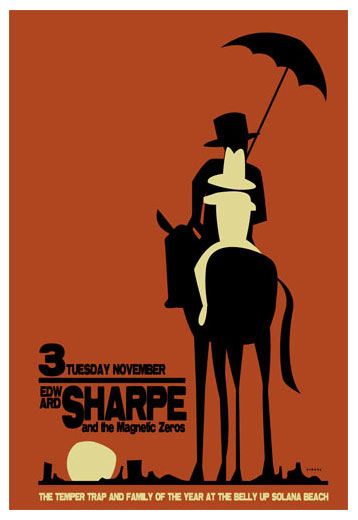 4. Escondido
5. The Show Ponies
6. The Grand Old Echo
8. Muse
9. Jack White 
10. Shovels & Rope