Riding Habit Revised a column where the best and worst of equestrian fashion and decor is reviewed with a modern edge.  
When I was young, like most of us, I made my bedroom a tribute to my assorted interests.  Punk rock posters hung over pretty pink rose and pony wallpaper, while Kurt Cobain peered from one wall onto the show ribbon extravaganza on the other.  Back then I couldn't have imagined a meeting of concepts as perfect as the equestrian-themed gig poster.
Concert posters, or gig posters, first took hold in late 1960s San Francisco.  These promotional posters were so frequently snatched from club walls and telephone poles that promoters started giving them out at the end of show.  Over time, the concept evolved into a unique art form that is currently experiencing an explosion in popularity.  In fact, more gig posters have been made in the last ten years than in all their previous history.
My favorite part about this rebirth of the gig poster is the introduction of purely graphic elements in place of band photos, thus allowing equestrian themes to merge perfectly with my favorite bands.  Hallelujah – finally a design concept for my home and stable that isn't an eyesore!
I recommend the following ten posters as a starting place for your education on this modern art form.  Click on the image if you would like to purchase the poster.  You can also head over to the Counter-Canter Culture Pinterest page for more suggestions or seek out works for your own favorite bands at www.gigposters.com.
1. Ryan Bingham
5. Rufus Wainwright by Bonnie Tompkins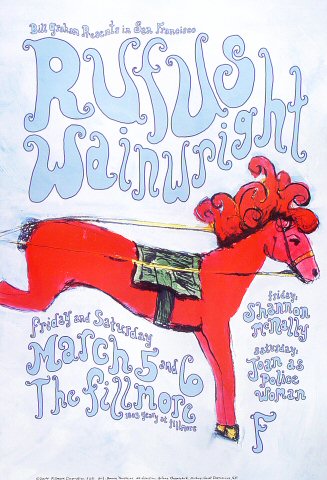 9. The White Stripes by 

Rob Jones
10. Okkervil River and Sea Wolf by 

Mike King