Riding Habit Revised a column where the best and worst of equestrian fashion and decor is reviewed with a modern edge.  
We've all been guilty of it.  We were too busy with our horses to come up with a Halloween costume, so we pull out our riding clothes, dress them up a bit and hit the town.   Sure, if you include your whip and spurs to the ensemble you may get a few thumbs up for this lack of effort, but most people will realize you didn't try.
But this year, no excuses like Ichobad over there!  It's not too late to make this Halloween a different story.  You can be relevant and horsey with these five last minute costumes.
1. Agnus's Unicorn from "Despicable Me"
"Despicable Me" minions are just about the hottest costume around this season.  Luckily, there is an equine element to this adorable movie franchise for us horse lovers.  The youngest daughter, Agnus, is obsessed with all things princess and fairytale, including her "It's so fluffy!" unicorn.  Pick up these comfy unicorn pajamas as your Halloween costume and you'll fit right in with all the cool kids trick or treating on your block!
2. Charlie from "It's Always Sunny In Philadelphia"
For a bit more adult look, stripped from the small screen, pick up this t-shirt, and become the character Charlie Kelly on "It's Always Sunny In Philadelphia."  Charlie is a grunt worker at a pub, who is borderline illiterate, an alcoholic, and is often seen huffing paint or glue.  So you can pretty much throw on anything else haphazardly to complete this ensemble.  Of course the perfect accessory would be your friends dressed as the other cast members!
3. Fluttershy My Little Pony/Brony

If you want to go with more of a cultural phenomenon look, try this hoodie on for size.  If you are like me, then this look brings back fond memories of a childhood obsession with My Little Ponies (I actually have the classic My Little Pony this hoodie is based on).  But that was then.  Now, this sweatshirt is a hit with young men (yes, men) who call themselves "Bronies."  Bronies are the unexpected fanclub of the new My Little Pony series, "Friendship Is Magic."  Last year, BronyCon in Baltimore (you heard me) attracted some 8,000 attendees and sparked similar gatherings throughout the United States and abroad.  This Halloween join the hysteria!
4. @Horse_ebooks
The Internet is abuzz with @Horse_ebooks, a widely followed Twitter account originally intended to promote e-books, but known for its amusing non-sequiturs.  Just last month it was revealed that @Horse_ebooks was part of a multi-year performance art piece staged by Buzzfeed employee Jacob Bakkila.  So don this t-shirt, and you will be in the know this Halloween!  If you want to be extra clever, finish the t-shirt tweet with a smart quip on the latest information.
5. Horse Wearing People Costume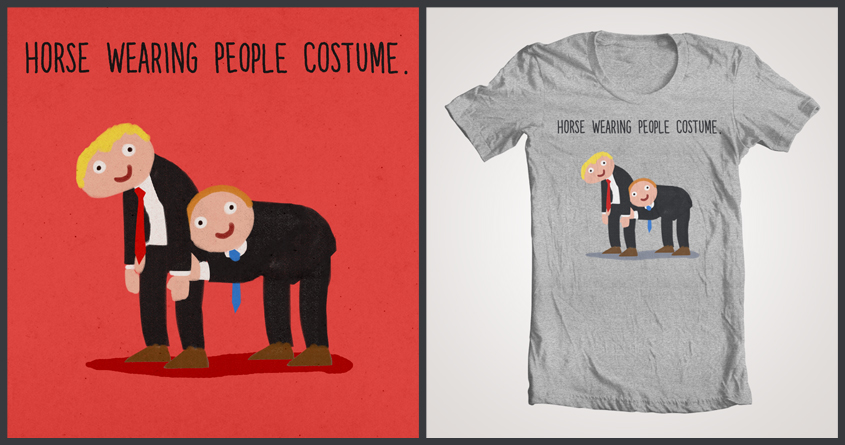 And then there's this – the best modern update on the tired "This IS My Costume" t-shirts I've ever seen.  The graphic designer claims "This design is based on the true story of a horse during The Great War who attempted to avoid being drafted into the conflict in Europe by disguising himself as two young men. Ironically, he was recruited into the army as two young men when conscription began and saw action on the Western Front."  I have my doubts about that story, but it's funny all the same.
Unfortunately, this t-shirt is not yet in print, so you will have to get a bit creative and make your own.  Or, better yet, walk around like these two characters all night.  I promise people will suddenly love your lack of effort!
Okay!  No more excuses!  I expect to see you dressed up as the hit of the neighhhhhh-borhood (had to do it!) this Halloween!